---
Thursday, October 11, 2018
Slim Rhodes & The Mountaineers
One of my favorite bands on Memphis television in the late 50's and early 60's was Slim Rhodes.
I found this old picture of Slim tonight a box I had almost forgotten.
I'm glad I found this great picture of Slim with his guitar, and from left to right, Slim's brother Dusty on the fiddle, Tiny Dixon on rhythm guitar, Slim, brother (and great comedian) Speck Rhodes on the stand up bass, and seated at the pedal steel guitar, the unforgettable Rocky Rhodes.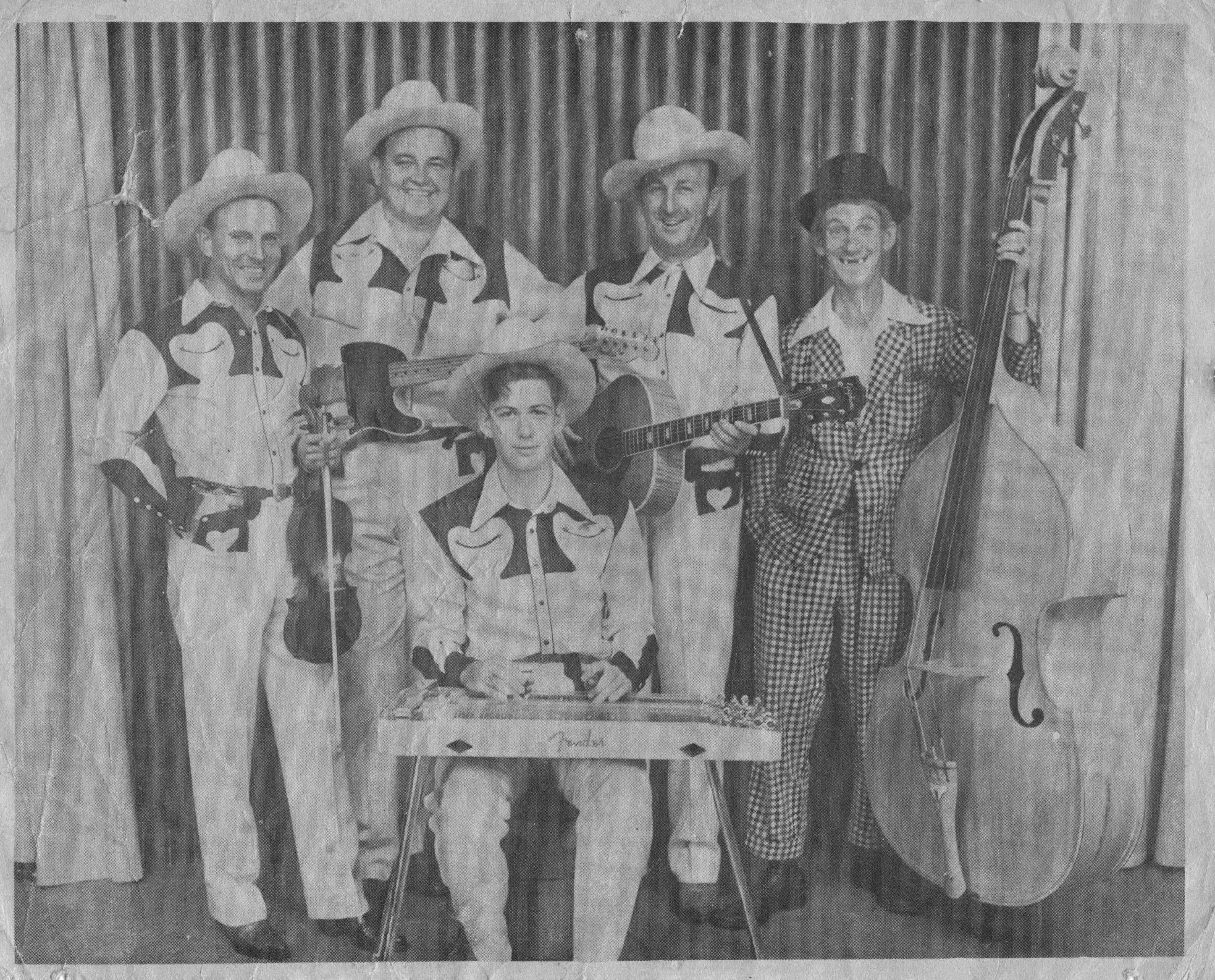 Slim and the band were at Stanley's By-Ryt Grocery Store on Macon Road playing the parking lot that day for lots of Stanley's customers.
Slim and the band autographed the back of the photo.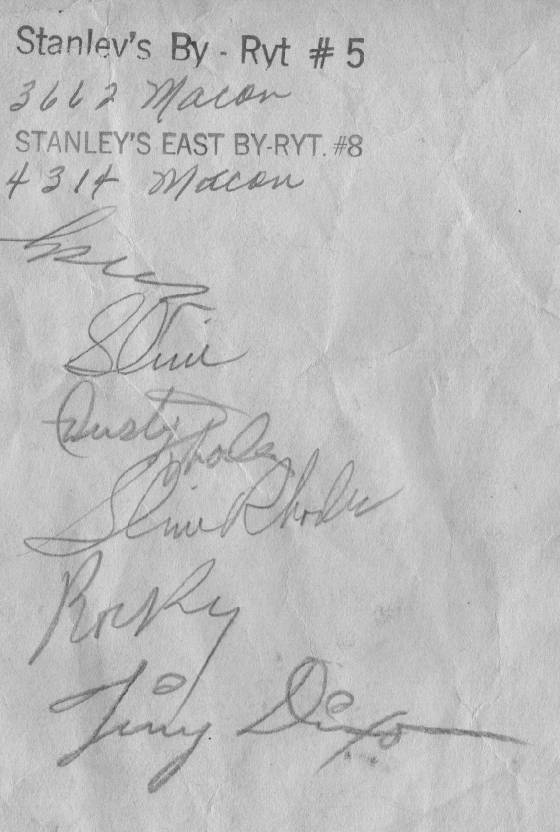 Slim Rhodes and his Mountaineers were a popular act in Memphis going back to the 1930s. So much so, that Sam Phillips and Sun Record company signed them to a recording contract in the 1950s.
The group got its start back in 1932, when Slim and two of his brothers formed a group while they were in high school and played country fairs.
In a 1946 letter to the editor of the Commercial Appeal attributed to Slim Rhodes, he mentions they were on WMC in Memphis, Tennessee at 11:30am each day as well as the Central Quality Network, sponsored by Mother's Best Flour. Slim said they had been with their sponsor for seven years at that time.
Speck Rhodes played the bass fiddle then and did comedy. Later in his career, he was part of Porter Wagoner's band. Slim, Dusty and Speck were brothers.
Slim Rhodes and his Mountaineers had a weekly Saturday show over WMCT in Memphis, from 12:00 to 12:30. They also had a 30-minute show over KATV in ine Bluff, Arkansas every Tuesday. I watched them everday that I could when I was a little boy.
I'm very proud to have this picture of Slim and the band
I cherish it.
11:51 pm cdt
---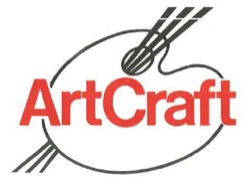 For the next few weeks I'll be talking about the first day covers of ArtCraft along with everything else.
ArtCraft closed it's doors recently after 76 years of making philatelic history.
I'm predicting a sudden, salubrious escalation in the value of the ArtCraft cachet, all ArtCraft first day covers and ArtCraft portrait cards.
Including those connected to the Postal Commemorative Society
Their departure signals the end of an extraordinarily crucial, very important, highly significant and exceedingly meaningful period in philately
A mournful signal which will be heard around the world and lamented throughout the multitude of collectors
Leo and Sam August treasured their associations with the world's greatest philatelists
Leo's contributions to our hobby were significant enough to earn the coveted Luft Award and a place in the American Philatelic Society Hall of Fame.
ArtCraft has well-earned it's place in the great chronological record in the history of philately.
Their raised ink, line-engraved intaglio printed cachets rank among the most aesthetic in the world.

ArtCraft cachets are not just beautiful.

They are works of art that showcase the wonders of the world and illuminate the powers of human creativity and ingenuity.
The Coober Pedy Cover
One of the World's Great Philatelic Rarities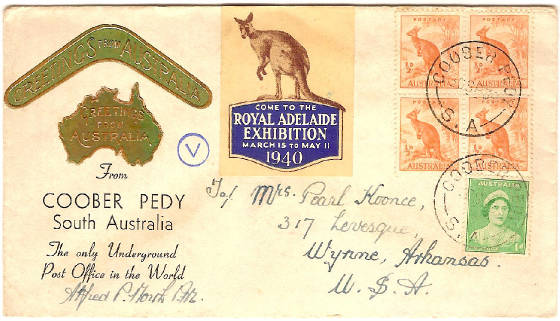 Could this become la pièce de résistance de toute la modern Australian philatélie ?
Coober Pedy is a town in northern South Australia. The town is sometimes referred to as the "opal capital of the world" because of the quantity of precious opals that are mined there. Coober Pedy is renowned for its below-ground residences,called "dugouts", which are built in this fashion due to the scorching daytime heat. The name "Coober Pedy" comes from the local Aboriginal term kupa-piti, which means "white man's hole".

Opal was found in Coober Pedy on 1 February 1915; since then the town has been supplying most of the world's gem-quality opal. Coober Pedy today relies as much on tourism as the opal mining industry to provide the community with employment and sustainability. Coober Pedy has over 70 opal fields and is the largest opal mining area in the world.

Coober Pedy - no village, no buildings, no roads, just desert, mountains dotted with boulders. A bizarre lunar landscape, but for opal seekers is the most exciting place on earth, where again every day is the true challenge, happiness and luck just a shovel width apart and where life is defined by two words: winners and losers. Coober Pedy, grab your hat, throw it into the air and where it lands start digging !