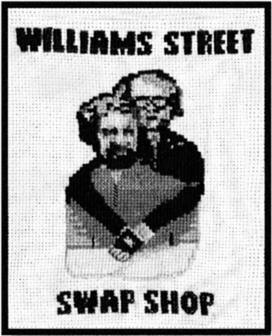 Williams Street Swap Shop, also known as WSSS, was a web streamed, televised program hosted by Matt Hutchinson and Zach White, two of the greatest American humorists of our time.
Emmy Award winners, they upheld the revered traditions of Mark Twain, Will Rogers and Bennett Cerf.
They understood very well that laughter is the greatest medicine, and that the quickest way to repair a broken heart is through tickled ribs.
In that regard, Matt and Zach were great physicians.
They had many fans who depended upon their power to heal with a prescription for comedy.
Their viewers lives were enriched by them.
Inspired by them.
Their fans enjoyed well-being and contentment because of them.
The thought of Matt and Zach will always bring bountiful smiles into the hearts of those who have known and loved them.
Their extraordinary work, good deeds and laughter will never be forgotten.
Williams Street Swap Shop is an enduring legacy.
The last show was aired November 25th 2020.
With the greatest respect, appreciation and love,
-David Saks-