---
Tuesday, June 6, 2023
Malaria
Every now and then I'll discover a piece of mail that contains a tragic message.
Inscribed within this very sad postcard, the message states that on September 26th 1934 a close friend or beloved family member has died from malaria in Monroe, Louisiana.
Malaria is a mosquito-borne infectious disease that affects humans and other animals. Malaria causes symptoms that typically include fever, tiredness, vomiting, and headaches. In severe cases, it can cause jaundice, seizures, coma, or death.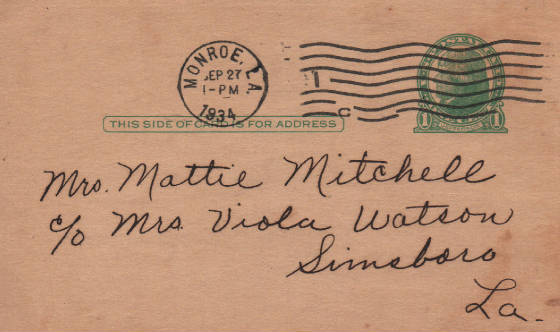 Addressed to Mrs.Mattie Mitchell in care of Mrs.Viola Watson of Simsboro, Louisiana and postmarked Spetember 27th 1934, the postcard, signed by Ruth, says:
Dear Mama,
I just want to let you know that Christina died last night at 8 o'clock. She died of malaria. It had dried up all of her blood and even the marrow in her bones. I feel so sorry for Ada. They are to have her funeral tomorrow. We both are well.
Lovingly
Ruth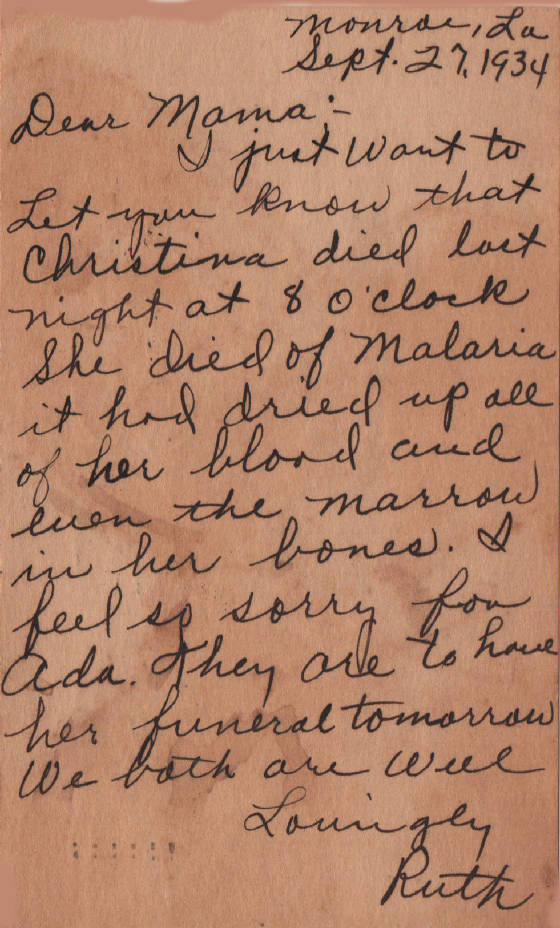 The World Health Organization estimates that in 2021 there were 247 million new cases of malaria resulting in 619,000 deaths. Children under 5 years old are the most affected, accounting for 67% of malaria deaths worldwide in 2019.

Malaria is presently endemic in a broad band around the equator, in areas of the Americas, many parts of Asia, and much of Africa; in Sub-Saharan Africa, 85–90% of malaria fatalities occur.

Malaria is prevalent in tropical and subtropical regions because of rainfall, consistent high temperatures and high humidity, along with stagnant waters where mosquito larvae readily mature, providing them with the environment they need for continuous breeding.

Climate change is likely to affect malaria transmission, but the degree of effect and the areas affected is uncertain.

The summer is upon us in Memphis.
9:13 pm cdt
---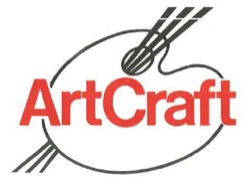 For the next few weeks I'll be talking about the first day covers of ArtCraft along with everything else.
ArtCraft closed it's doors recently after 76 years of making philatelic history.
I'm predicting a sudden, salubrious escalation in the value of the ArtCraft cachet, all ArtCraft first day covers and ArtCraft portrait cards.
Including those connected to the Postal Commemorative Society
Their departure signals the end of an extraordinarily crucial, very important, highly significant and exceedingly meaningful period in philately
A mournful signal which will be heard around the world and lamented throughout the multitude of collectors
Leo and Sam August treasured their associations with the world's greatest philatelists
Leo's contributions to our hobby were significant enough to earn the coveted Luft Award and a place in the American Philatelic Society Hall of Fame.
ArtCraft has well-earned it's place in the great chronological record in the history of philately.
Their raised ink, line-engraved intaglio printed cachets rank among the most aesthetic in the world.

ArtCraft cachets are not just beautiful.

They are works of art that showcase the wonders of the world and illuminate the powers of human creativity and ingenuity.
The Coober Pedy Cover
One of the World's Great Philatelic Rarities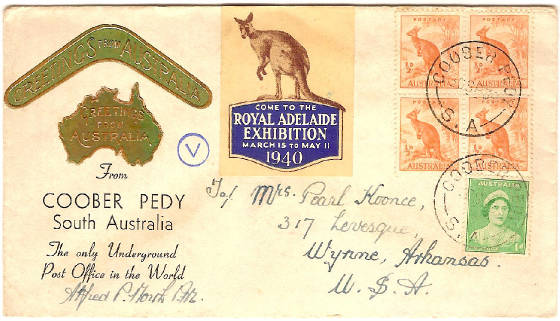 Could this become la pièce de résistance de toute la modern Australian philatélie ?
Coober Pedy is a town in northern South Australia. The town is sometimes referred to as the "opal capital of the world" because of the quantity of precious opals that are mined there. Coober Pedy is renowned for its below-ground residences,called "dugouts", which are built in this fashion due to the scorching daytime heat. The name "Coober Pedy" comes from the local Aboriginal term kupa-piti, which means "white man's hole".

Opal was found in Coober Pedy on 1 February 1915; since then the town has been supplying most of the world's gem-quality opal. Coober Pedy today relies as much on tourism as the opal mining industry to provide the community with employment and sustainability. Coober Pedy has over 70 opal fields and is the largest opal mining area in the world.

Coober Pedy - no village, no buildings, no roads, just desert, mountains dotted with boulders. A bizarre lunar landscape, but for opal seekers is the most exciting place on earth, where again every day is the true challenge, happiness and luck just a shovel width apart and where life is defined by two words: winners and losers. Coober Pedy, grab your hat, throw it into the air and where it lands start digging !