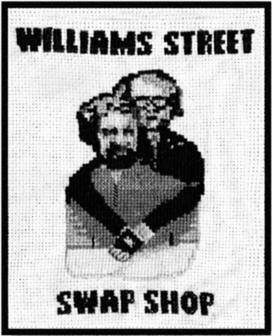 Williams Street Swap Shop, also known as WSSS, is a daily web stream and televised program hosted by Matt Hutchinson and Zach White, two of the greatest American humorists of our time.
Emmy Award winners, they uphold the revered traditions of Mark Twain, Will Rogers and Bennett Cerf. They understand very well that laughter is the greatest medicine, and that the quickest way to repair a broken spirit is through tickled ribs. In that regard, Matt and Zach are great physicians. They have many patients who depend upon their prescription for joy, mirth and merriment. Their viewers lives are enriched by them. Inspired by them. Their fans enjoy well-being and contentment because of them. The thought of Matt and Zach will always bring bountiful smiles to those who have known them.
Williams Street Swap Shop is an enduring legacy.
With the greatest respect, admiration and love.
-David Saks-
---
Saturday, June 18, 2016
Are You Kidding Me ?
I found this on the back of one of the comics in my collection this morning.
I laughed so hard I fell out of my chair.
It's on the back of a 1993 comic titled "Mystery Incorporated".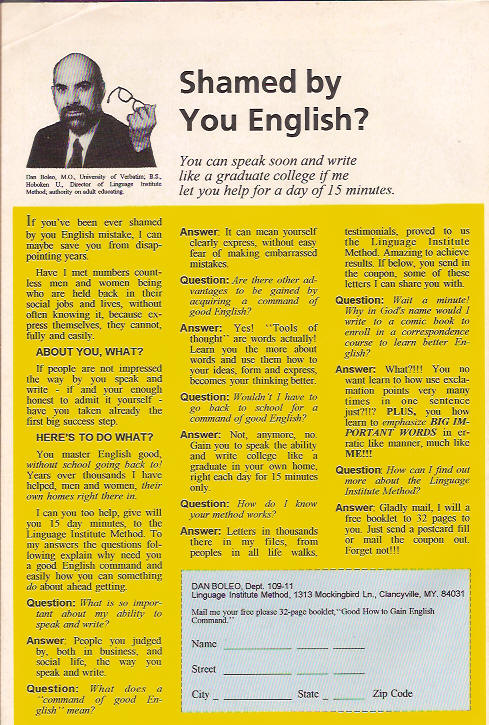 3:16 am cdt
Tuesday, June 14, 2016
The Quetzal
The Guatemalan Quetzal (Scott no. 25) was one of the most beautiful stamps in the world.
It was issued Novemeber 7, 1881.
It is engraved and has 12 perforations per two centimeters horizontally and vertically.
The resplendent quetzal is a large trogon, a forest bird of the warm regions of the New World, having brilliant lustrous plumage and long tails.
The quetzal is of Central America and South America and has golden-green and scarlet plumage.
Here's an example from my stamp collection.
I found it in an old decaying stamp album that was printed in the first decade of the 20th century.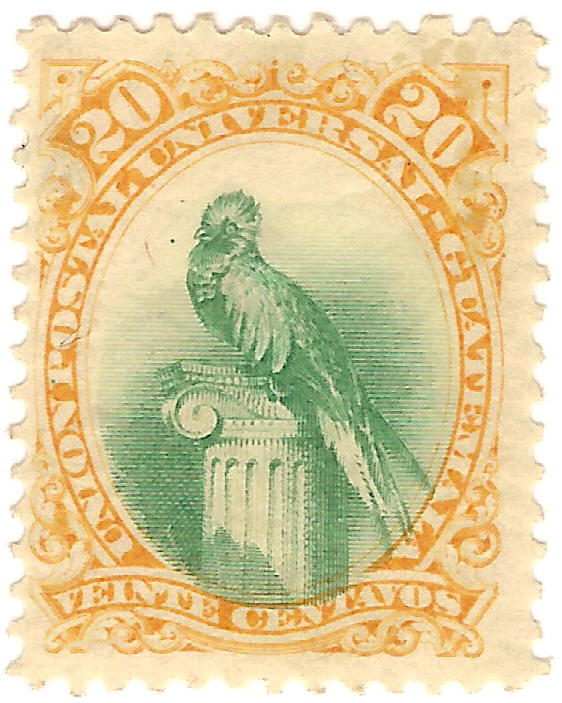 6:40 pm cdt
---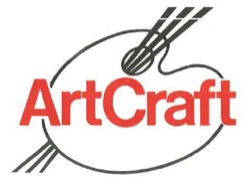 For the next few weeks I'll be talking about the first day covers of ArtCraft along with everything else.
ArtCraft closed it's doors recently after 76 years of making philatelic history.
I'm predicting a sudden, salubrious escalation in the value of the ArtCraft cachet, all ArtCraft first day covers and ArtCraft portrait cards.
Including those connected to the Postal Commemorative Society
Their departure signals the end of an extraordinarily crucial, very important, highly significant and exceedingly meaningful period in philately
A mournful signal which will be heard around the world and lamented throughout the multitude of collectors
Leo and Sam August treasured their associations with the world's greatest philatelists
Leo's contributions to our hobby were significant enough to earn the coveted Luft Award and a place in the American Philatelic Society Hall of Fame.
ArtCraft has well-earned it's place in the great chronological record in the history of philately.
Their raised ink, line-engraved intaglio printed cachets rank among the most aesthetic in the world.

ArtCraft cachets are not just beautiful.

They are works of art that showcase the wonders of the world and illuminate the powers of human creativity and ingenuity.
The Coober Pedy Cover
One of the World's Great Philatelic Rarities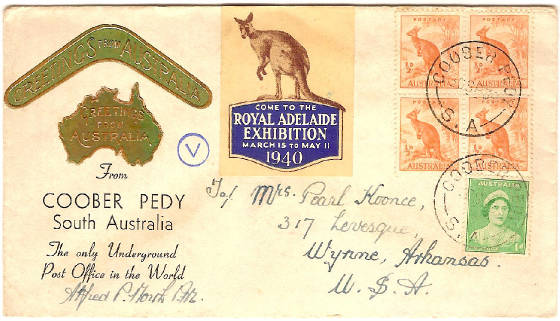 Could this become la pièce de résistance de toute la modern Australian philatélie ?
Coober Pedy is a town in northern South Australia. The town is sometimes referred to as the "opal capital of the world" because of the quantity of precious opals that are mined there. Coober Pedy is renowned for its below-ground residences,called "dugouts", which are built in this fashion due to the scorching daytime heat. The name "Coober Pedy" comes from the local Aboriginal term kupa-piti, which means "white man's hole".

Opal was found in Coober Pedy on 1 February 1915; since then the town has been supplying most of the world's gem-quality opal. Coober Pedy today relies as much on tourism as the opal mining industry to provide the community with employment and sustainability. Coober Pedy has over 70 opal fields and is the largest opal mining area in the world.

Coober Pedy - no village, no buildings, no roads, just desert, mountains dotted with boulders. A bizarre lunar landscape, but for opal seekers is the most exciting place on earth, where again every day is the true challenge, happiness and luck just a shovel width apart and where life is defined by two words: winners and losers. Coober Pedy, grab your hat, throw it into the air and where it lands start digging !